linkerstorm wrote:
Hi.
Just a message to thank you : this is a great job !
Keep the good work til the 1.0 relase
Congartulations.
Thanks
Update: Version 0.30 beta
- Optimizations
- New Functions for Sprites & Tiles
Sprite and Tiles can now be transformed/distorted (with rotation, tint & alpha)
This for example could be used to map textures on walls in a pseudo 3D world (ex. Wolfenstein).
New Functions:
Code:
Interface NAUTILUS_TILE
;...
DrawMap.i(Index.i,X1.f,Y1.f,X2.f,Y2.f,X3.f,Y3.f,X4.f,Y4.f,Alpha.a = #Null)
DrawMapFx.i(Index.i,X1.f,Y1.f,X2.f,Y2.f,X3.f,Y3.f,X4.f,Y4.f,Alpha.a = #Null,AnchorX.f = #Null,AnchorY.f = #Null,Angle.f = #Null,Tint.l = #Null)
;...
DrawLightMap.i(Index.i,X1.f,Y1.f,X2.f,Y2.f,X3.f,Y3.f,X4.f,Y4.f,Alpha.a = #Null)
DrawLightMapFx.i(Index.i,X1.f,Y1.f,X2.f,Y2.f,X3.f,Y3.f,X4.f,Y4.f,Alpha.a = #Null,AnchorX.f = #Null,AnchorY.f = #Null,Angle.f = #Null,Tint.l = #Null)
;...
LayerDrawMap.i(Layer.i,Index.i,X1.f,Y1.f,X2.f,Y2.f,X3.f,Y3.f,X4.f,Y4.f,Alpha.a = #Null)
LayerDrawMapFx.i(Layer.i,Index.i,X1.f,Y1.f,X2.f,Y2.f,X3.f,Y3.f,X4.f,Y4.f,Alpha.a = #Null,AnchorX.f = #Null,AnchorY.f = #Null,Angle.f = #Null,Tint.l = #Null)
;...
LayerLightMap.i(Layer.i,Index.i,X1.f,Y1.f,X2.f,Y2.f,X3.f,Y3.f,X4.f,Y4.f,Alpha.a = #Null)
LayerLightMapFx.i(Layer.i,Index.i,X1.f,Y1.f,X2.f,Y2.f,X3.f,Y3.f,X4.f,Y4.f,Alpha.a = #Null,AnchorX.f = #Null,AnchorY.f = #Null,Angle.f = #Null,Tint.l = #Null)
;...
EndInterface

Interface NAUTILUS_SPRITE
;...
DrawMap.i(X1.f,Y1.f,X2.f,Y2.f,X3.f,Y3.f,X4.f,Y4.f,Alpha.a = #Null)
DrawMapFx.i(X1.f,Y1.f,X2.f,Y2.f,X3.f,Y3.f,X4.f,Y4.f,Alpha.a = #Null,Angle.f = #Null,AnchorX.f = #Null,AnchorY.f = #Null,Tint.l = #Null)
;...
DrawLightMap.i(X1.f,Y1.f,X2.f,Y2.f,X3.f,Y3.f,X4.f,Y4.f,Alpha.a = #Null)
DrawLightMapFx.i(X1.f,Y1.f,X2.f,Y2.f,X3.f,Y3.f,X4.f,Y4.f,Alpha.a = #Null,AnchorX.f = #Null,AnchorY.f = #Null,Angle.f = #Null,Tint.l = #Null)
;...
LayerDrawMap.i(Layer.i,X1.f,Y1.f,X2.f,Y2.f,X3.f,Y3.f,X4.f,Y4.f,Alpha.a = #Null)
LayerDrawMapFx.i(Layer.i,X1.f,Y1.f,X2.f,Y2.f,X3.f,Y3.f,X4.f,Y4.f,Alpha.a = #Null,AnchorX.f = #Null,AnchorY.f = #Null,Angle.f = #Null,Tint.l = #Null)
;...
LayerLightMap.i(Layer.i,X1.f,Y1.f,X2.f,Y2.f,X3.f,Y3.f,X4.f,Y4.f,Alpha.a = #Null)
LayerLightMapFx.i(Layer.i,X1.f,Y1.f,X2.f,Y2.f,X3.f,Y3.f,X4.f,Y4.f,Alpha.a = #Null,AnchorX.f = #Null,AnchorY.f = #Null,Angle.f = #Null,Tint.l = #Null)
;...
EndInterface


Example: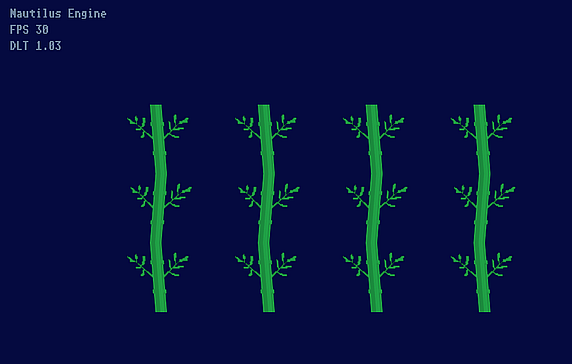 Code:
Code:
EnableExplicit

;Nautilus Engine Example
;Version: 0.30 beta
;Author: Mijikai

XIncludeFile "nautilus.pbi"

Structure VECTOR_STRUCT
x.f
y.f
EndStructure

Procedure.i DrawPlant(*tile.NAUTILUS_TILE,X.f,Y.f,Distortion.f)
*tile\DrawMap(-1,X + Distortion ,Y ,X + 64 + Distortion,Y ,X + 64,Y + 64,X,Y + 64)
*tile\DrawMap(-1,X ,Y + 64 ,X + 64 ,Y + 64 ,X + 64 + Distortion,Y + 128,X + Distortion,Y + 128)
*tile\DrawMap(-1,X + Distortion ,Y +128 ,X + 64 + Distortion,Y + 128,X + 64,Y + 192,X,Y + 192)
EndProcedure

Procedure.i Main(Width.i,Height.i,Title.s,ViewWidth.i,ViewHeight.i,FPS.i)
Protected win.i
Protected win_handle.i
Protected win_flag.i
Protected win_msg.i
Protected *engine.NAUTILUS_ENGINE
Protected engine_delta.f
Protected engine_fps.i
Protected engine_error.i
Protected screen_center.VECTOR_STRUCT
Protected *atlas.NAUTILUS_ATLAS
Protected *tile.NAUTILUS_TILE
Protected dist.f
Protected dist_flag.b
win_flag|#PB_Window_SystemMenu|#PB_Window_ScreenCentered|#PB_Window_MinimizeGadget
win_flag|#PB_Window_MaximizeGadget|#PB_Window_SizeGadget
win = OpenWindow(#PB_Any,#Null,#Null,Width,Height,Title,win_flag)
If win
win_handle = WindowID(win)
*engine = nautilusCreate(win_handle,ViewWidth,ViewHeight,FPS);init the engine
If *engine
*engine\RenderAspect() ;keep the aspect ratio
*engine\RenderColor($400A05) ;change render color
*engine\RenderFilter()
*engine\ViewPortCenter(@screen_center);get the screen (viewport) center
*engine\DrawTextResize(8,12) ;set new size for standart text drawing with the ENGINE interface
*engine\DrawTextSetSpacing(6) ;and set the spacing between chars
*atlas = *engine\CreateAtlas(?plant,#Null$)
*tile = *atlas\CreateTile(4,1,0,0,64,64)
*tile\Animation(120,#True)
Repeat
Repeat
win_msg = WindowEvent()
If win_msg = #PB_Event_CloseWindow
Break 2
EndIf
Until win_msg = #Null
*engine\RenderBegin(@engine_delta,@engine_fps,@engine_error)

If dist_flag
dist - 0.25 * engine_delta
If dist < -5
dist_flag = #False
EndIf
Else
dist + 0.25 * engine_delta
If dist > 5
dist_flag = #True
EndIf
EndIf
DrawPlant(*tile,120,100,dist)
DrawPlant(*tile,220,100,dist)
DrawPlant(*tile,320,100,dist)
DrawPlant(*tile,420,100,dist)
*engine\DrawText(10,10,"Nautilus Engine",#False,#False,200,$FFDFBF)
*engine\DrawText(10,25,"FPS " + Str(engine_fps),#False,#False,200,$FFDFBF)
*engine\DrawText(10,40,"DLT " + StrF(engine_delta,2),#False,#False,200,$FFDFBF)
*engine\RenderEnd()
If engine_error
Break
EndIf
ForEver
*engine\Release()
EndIf
CloseWindow(win)
EndIf
EndProcedure

Main(1080,720,"Example Nautilu Engine v.0.30 beta",600,400,30)

End

DataSection
plant:
;{ File: plant.png - Size: 1265 Bytes
!dw 05089h, 0474Eh, 00A0Dh, 00A1Ah, 00000h, 00D00h, 04849h, 05244h, 00000h, 00001h, 00000h, 04000h, 00208h, 00000h, 07A00h, 03E3Fh, 000E9h, 00000h, 07406h, 04E52h, 00053h, 00000h, 00000h, 06E00h, 007A6h, 00091h, 00000h, 07009h, 05948h, 00073h, 00E00h, 000C4h, 00E00h, 001C4h, 02B95h, 01B0Eh, 00000h, 09104h, 04449h, 05441h
!dw 0DA78h, 09CEDh, 06E3Dh, 0311Bh, 08510h, 0C5E5h, 05222h, 0C290h, 0D406h, 08545h, 01700h, 00F86h, 052A1h, 001A5h, 0425Fh, 0D077h, 07419h, 05D07h, 080C2h, 0974Bh, 0443Eh, 0C290h, 00B80h, 08155h, 0A4E0h, 00AF2h, 038D8h, 00829h, 00410h, 0E5C9h, 067F2h, 0CB86h, 0DEB5h, 059D7h, 09612h, 0338Fh, 0C8F3h, 01FD9h, 0C5EFh, 09484h
!dw 087EBh, 0D3BBh, 03FCFh, 0CFF2h, 0DF2Fh, 07DBFh, 0B7BCh, 0D7D5h, 0E3FAh, 06DBDh, 0CD8Fh, 0F6F4h, 0E5EAh, 071FEh, 03052h, 07FD0h, 0FA6Eh, 009ABh, 06700h, 00C0Ch, 06000h, 00000h, 00060h, 06000h, 00000h, 00060h, 06000h, 00000h, 08060h, 05912h, 0D7EEh, 0FDCBh, 0991Ah, 0E703h, 08068h, 04BF2h, 0FE1Fh, 054FCh, 0C806h, 0CB99h
!dw 0B1DEh, 00FE4h, 0375Eh, 0654Fh, 006DAh, 03FA5h, 015BAh, 0F2A1h, 0A74Ch, 00698h, 04CDFh, 078C6h, 06C64h, 0457Dh, 08FE9h, 0CFABh, 0542Ah, 050E2h, 0F099h, 0D719h, 01BF1h, 02BEDh, 03F6Eh, 093BBh, 01D64h, 0F437h, 03873h, 0448Dh, 03576h, 0C98Ah, 0C2ABh, 0FDDCh, 0C94Fh, 0AE1Bh, 0985Bh, 05798h, 04397h, 0BB42h, 0BE3Eh, 0742Eh
!dw 07BBCh, 03591h, 095B6h, 08663h, 08279h, 09BDEh, 05500h, 05B8Fh, 0FC92h, 0D876h, 09924h, 0B522h, 0A7B8h, 0B607h, 042C0h, 0E594h, 03BD5h, 041D9h, 07794h, 05A0Dh, 01215h, 0AEDFh, 00DDAh, 0A375h, 01C79h, 009F1h, 09993h, 051DDh, 06D0Ah, 054B4h, 03E91h, 05CEDh, 0D6E6h, 067C8h, 0EB07h, 02FD5h, 0CF3Eh, 05D5Ch, 0430Eh, 09E56h
!dw 0F54Eh, 02029h, 061EDh, 08D6Eh, 03E7Ah, 0FBFBh, 0B9ABh, 0B87Eh, 05FF3h, 01738h, 055BBh, 092CAh, 0DCB9h, 0E5AFh, 07C11h, 0D388h, 09B4Fh, 0B14Bh, 0A9CBh, 010EDh, 07EB7h, 08B07h, 02ADDh, 0C3C8h, 007A6h, 0E358h, 02BDFh, 0EA4Ch, 0D477h, 0DD58h, 0E26Bh, 06EC5h, 0D875h, 08B3Eh, 0696Fh, 02D93h, 0A68Eh, 02A0Eh, 05886h, 0D7EEh
!dw 09BAFh, 03927h, 00A6Eh, 07CF5h, 0E666h, 0AF80h, 053C7h, 0A443h, 01B8Eh, 09031h, 0543Ch, 06C7Bh, 0F9EAh, 07F2Ch, 0B0CFh, 0ADD8h, 0E3ACh, 0767Ah, 0DAA1h, 0662Ah, 05E5Dh, 07B59h, 0556Ch, 063BFh, 0DAA0h, 03267h, 01E7Ch, 04AE8h, 04A7Ch, 01C74h, 0493Bh, 0EACEh, 07749h, 01AAFh, 0CF7Fh, 01699h, 05FA5h, 0D870h, 0673Eh, 0BF8Bh
!dw 0B159h, 05761h, 0DC81h, 04873h, 0469Ch, 06C7Bh, 0B7DAh, 04F93h, 0DBE8h, 04363h, 0DA9Bh, 0FA9Ch, 063DBh, 05843h, 00E3Dh, 0A1FDh, 03221h, 05BF5h, 0085Bh, 0FD6Eh, 099D1h, 0C775h, 0365Fh, 0628Dh, 07F20h, 095FDh, 01CFFh, 0977Ah, 097D2h, 0C7FBh, 0CDE9h, 0E3A5h, 0D307h, 04B9Bh, 0FFF7h, 08A74h, 0D3E3h, 05F46h, 0EFD3h, 07FE8h
!dw 0A446h, 05ADFh, 0E946h, 0DBFAh, 02363h, 0EAC7h, 0AABAh, 0A893h, 0E1DFh, 04481h, 0AFFDh, 0A79Bh, 0FD2Eh, 026AEh, 0D439h, 062C7h, 0A60Ch, 0D76Dh, 01EACh, 07EC2h, 0EA5Dh, 028E7h, 04D50h, 0C73Fh, 0FC85h, 0FA3Ch, 0F9EBh, 0E98Ch, 0842Eh, 007DCh, 0F568h, 06ECBh, 01DD9h, 0027Fh, 0F003h, 0C1CDh, 07D1Dh, 04BC2h, 04C60h, 03C5Bh
!dw 0FEABh, 0F1CCh, 0ED67h, 049D1h, 0217Ah, 025C7h, 06B07h, 0BBF5h, 0AA07h, 0AB3Dh, 01E47h, 03085h, 07207h, 05202h, 0B5BDh, 0987Ah, 007CEh, 06A48h, 04C48h, 0ABA1h, 0487Ah, 0786Eh, 04769h, 0E7ABh, 07233h, 0F30Fh, 06E75h, 0FA79h, 0AE88h, 0C7D5h, 0FE27h, 04475h, 06826h, 051D7h, 0FA35h, 0971Ch, 0CC35h, 00A63h, 051A7h, 057E9h
!dw 04EFBh, 06456h, 0680Ah, 0C03Dh, 0FD5Dh, 06BDCh, 0A268h, 02AFEh, 07AA8h, 06DE4h, 09F1Ah, 0E273h, 0AAA2h, 09AC7h, 07492h, 0DCFDh, 063D5h, 0115Dh, 0E2A8h, 09DAFh, 0B235h, 05A86h, 02B3Bh, 0BB15h, 00965h, 0AFF1h, 072E3h, 0F5A0h, 01173h, 0E40Ah, 033E4h, 0FF57h, 0F4E8h, 0C773h, 0ED5Fh, 0F21Ch, 0FD3Ch, 05EA5h, 01FADh, 0FE3Ch
!dw 0BA75h, 027B3h, 0F7E1h, 0C44Dh, 03A5Dh, 08F71h, 0F693h, 0B129h, 00F08h, 0BB88h, 029C5h, 0F3FAh, 0353Fh, 0A848h, 07ADFh, 08545h, 0BDDBh, 02F6Ah, 01E97h, 0B8FFh, 023D1h, 0600Dh, 06BD6h, 00E68h, 07AA4h, 09CF3h, 0833Dh, 0B419h, 04578h, 090D4h, 07FA9h, 0E790h, 0E567h, 0A1A0h, 0A435h, 09FE9h, 0FA0Ch, 06678h, 0FC7Ah, 0F513h
!dw 0445Fh, 08D14h, 06999h, 069A9h, 07B7Ah, 07EE5h, 0E9B9h, 0C7E9h, 04D6Fh, 0E7BDh, 0E410h, 0AFD5h, 03F1Eh, 07F51h, 08B86h, 0D657h, 0A889h, 044BDh, 0FC62h, 087ADh, 060CDh, 07500h, 04D0Dh, 04FD7h, 0127Fh, 059ECh, 0879Ah, 0B3EDh, 033E7h, 05D5Bh, 07BEAh, 0F59Fh, 06D67h, 013ACh, 067F5h, 06F16h, 02466h, 0FE3Dh, 07799h, 07330h
!dw 0261Fh, 0CFD1h, 003B2h, 05FF8h, 05D5Bh, 056ECh, 00E3Eh, 0EA1Eh, 0D7ACh, 06F67h, 0592Dh, 06F7Fh, 0C622h, 07F12h, 03EC7h, 05F9Ch, 0C07Fh, 0516Bh, 0D77Ah, 01F39h, 0C565h, 0FF56h, 0F4B8h, 0135Bh, 0BA31h, 09BF8h, 070FBh, 0FD7Eh, 097F1h, 00141h, 0E920h, 086DFh, 046A5h, 0C64Ah, 07C82h, 06472h, 04BD4h, 06952h, 061E2h, 05400h
!dw 059CFh, 09783h, 002E3h, 00018h, 01800h, 00000h, 00018h, 01800h, 00000h, 00018h, 01800h, 00000h, 0C018h, 0F21Bh, 0F357h, 00665h, 0CFFAh, 03F50h, 00076h, 01D80h, 00000h, 08018h, 0F69Bh, 0E4EDh, 06AF3h, 062C1h, 0FE81h, 0A94Fh, 0D29Fh, 03D00h, 0B6AFh, 0F8FBh, 0FBD7h, 0BE6Ah, 08161h, 033FEh, 08FD4h, 00816h, 005A0h, 00002h
!dw 00006h, 00600h, 00000h, 00006h, 00600h, 00000h, 00006h, 00600h, 00000h, 00006h, 00600h, 00000h, 00006h, 00600h, 00000h, 00006h, 00600h, 00000h, 00006h, 00600h, 06000h, 0FC7Ch, 0BA07h, 0D3D6h, 0562Dh, 0CDB2h, 0009Bh, 00000h, 04900h, 04E45h, 0AE44h, 06042h, 00082h
;}
EndDataSection